Mon 26 Mar 2007
Ramona is four months old today. We are thrilled, there was a time we weren't sure we'd see this day.
She's doing well today. She's been very alert and awake and is showing a lot of interest in the world around her. This morning she was smiling at the pictures of knitting animals that are on her crib bumper. She also like to smile at Simon, but he's usually too busy trying to take her socks off to notice. Another favorite is my beaded necklace which she batts at and grabs when it's close enough.
But her favorite past time is still sleeping. She's becoming a real pro and can even settle herself down after a little coughing spell all by herself. That's great for her and means a little more sleep and rest for us too. Today's pic shows off one of her most stylish sleeping poses, "Hula". She also does "Karate Kid", "Praying Mantis" and "Praise Jesus". Collect all four

We're having great weather here, hope you're having it too wherever you are…
Jane.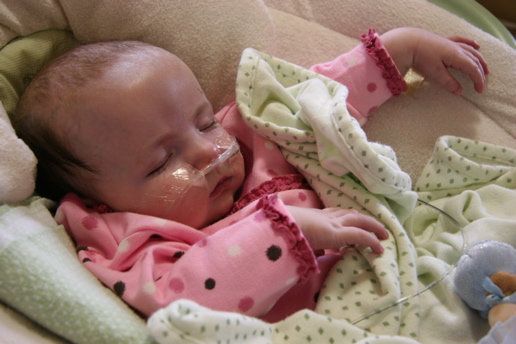 19 Responses to " Four Months! "
Trackbacks & Pingbacks: