Thu 17 May 2007
I often think of life as a rocky river bed to be crossed. The journey from one bank to the other is not a straight line and the complexities of the path can't be taken in all at once. You simply have to look at the rocks around your feet and decide which one is your next best choice. There is no wrong way across if you decide this way. You may not be able to choose where you will come ashore, you may have to backtrack, you may get tired, but that's life. The question that has been plaguing me is, "How do you decide which rock is next?"
I once had the honor of playing under the recently deceased cellist/conductor Mstislav Rostropovich. I got my degree in orchestral string bass and briefly played with the Civic Orchestra of Chicago. Besides the terror of the audition, my experience with Rostropovich is really the only memory I still have of that time.
He was intense and conducted with the energy of a much younger man. But his vigor seemed to spring more from joy than from aggression. During a break in rehearsal members of the orchestra were asking him about his career and his amazing story of exile and emigration. He said something during that time that I will never forget, although I don't now recall the question that prompted his story. This is all hearsay and I'm paraphrasing of course.
He described leaving Russia as an incredibly painful decision that rocked his faith and broke his heart. Most Russians at that time would pass through Italy on their way to America and spend time in Trieste waiting for arrangements to be made. Because of his fame and his faith he and his wife were given a private audience with the pope. During their meeting he asked the pope how one could make such an agonizing decision of conscience over country. The pope explained that there was a ladder between us and God and that every decision we make is either a step up or a step down on that ladder. We simply have to listen to the Holy Spirit and choose our next step.
I suppose that is how I will try to pick my next rock.
NPR is resurrecting an old series called "This I Believe" that was originally conceived by Edward R. Murrow in the 50's. I don't know too much about it except that it asks for people from all walks of life to contribute their perspective and beliefs in a short essay. I've been encouraging friends to make their contributions. I guess this is mine.
I believe in small steps. Whether it's one pound, one surgery, or even one day at a time, I believe it will be good enough for God. So today I have peace. I believe my part in my journey is simply to choose my path a little at a time and trust that someday I will come ashore. Here is a pic of Mona doing her "sexy side sit".
Thank you all for being there to support me in the hard times, Jane.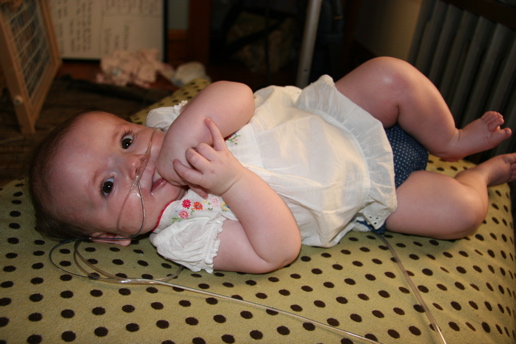 10 Responses to " Baby Steps "
Trackbacks & Pingbacks: