Wed 18 Jul 2007
I am happy to report that Simon has been peeing in the potty.
Last night before his bath, I took his clothes off tubside. Anticipating that he might pee, I put him on his new potty seat and said, "Can you pee-pee?". He got a far-away look in his eye and then let go a few trickles. I was thrilled. During his bath he stood up and started to pee again, so I pulled him out and put him back on the seat. More pee. Then this morning, thinking it might have been a fluke, I put him on his seat again. 100 yard stare, pee.
We've been praising him and singing a pee-pee song. He seems excited to be able to get us so excited. Who knows what this means? I mean geez, he's only 15 months old. But I think it's neat. Actually it's pretty messy, but it's still cool.
Here's a pic of him on our recent trip to Michigan looking as pleased with himself as we are with him.
Love, Jane.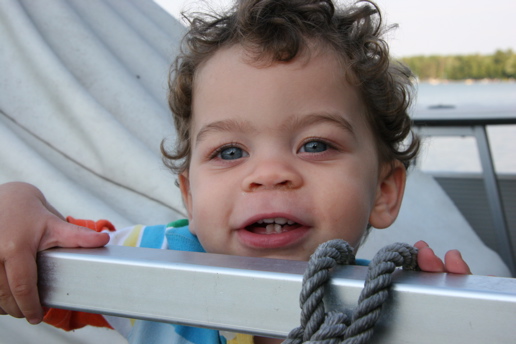 16 Responses to " Potty Time. Excellent. "
Trackbacks & Pingbacks: