Fri 27 Jul 2007
Our little fatty weighed in at 18lbs 12oz today. She's one day past eight months old and doing well. It's now six weeks post-op and we are cleared to lift her up under her arms again which will give her lots of opportunities for new tricks, like bearing weight on her legs.
Other good news: Ramona finally has a speech therapist to work with her on feeding issues at home! She will start on Wednesday and meet with us every week. The timing is perfect as Ramona is just starting to demonstrate interest in rice cereal, opening her mouth big and wide when the spoon approaches. We're hoping to explore her feeding and swallowing potential. Who knows, perhaps with this extra help she may even be able to avoid the G tube and ditch the NG. Lord knows she could stand to skip a meal these days.
Simon is still a potty champ, I've taken to calling him the Whiz Kid. I should try and get a picture of him on the throne. In the meantime here's Ramona in her exersaucer. Not a favorite of her therapists but a fun new viewpoint for a nice change of pace.
Thanks for your prayers, Jane.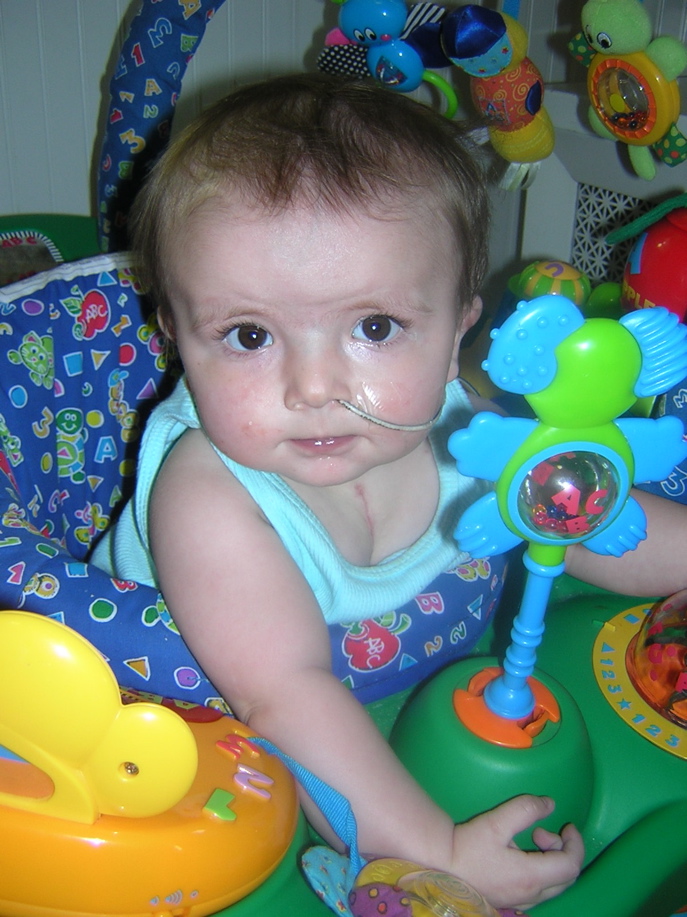 9 Responses to " Like The Overture "
Trackbacks & Pingbacks: