Sat 29 Mar 2008
We had a great visit with Papa Wayne and Grammy Sue. They stopped for a few nights en route to pick up their new puppy. We all enjoyed their visit, but Simon especially took a liking to "Big Papa".
We set up Simon's birthday present, a train table, a bit early. Both Andy's folks and my mom contributed so we thought it would be fun if Wayne and Sue were able to see how much he enjoyed it. Ramona was coy and adorable, smiling and talking. She especially enjoyed putting her fingers in Grammy's mouth.
Here's a pic of Simon with his trains and another of Ramona being flirty in her highchair…
Love, Jane.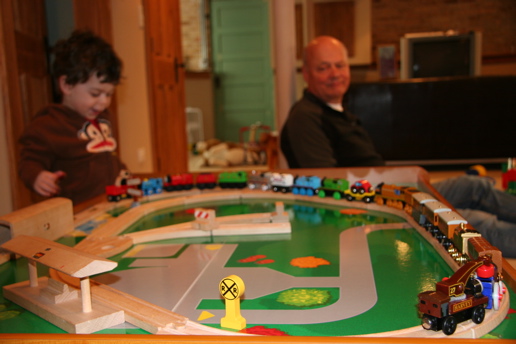 2 Responses to " Big Papa! "
Trackbacks & Pingbacks: