Sat 19 Apr 2008
I've been having trouble falling asleep. Getting surprised by a pit in my stomach when think about Ramona's upcoming surgery. A heart cath is really not a huge deal when compared to open heart surgery. But it's a big deal compared to staying home and going on with life as usual.
Honestly I'm more anxious about what they're going to find in there than I am about the procedure itself. I'm not sure, but I think she will only be in the hospital for a night or two, so that's good. They will be inserting various instruments into an incision in her leg vein (or possibly her neck if they can't get access in her leg). These instruments will be fed into her heart to take measurements, images and possibly make some surgical improvements to her heart function. There's a real range of outcomes and I'm getting increasingly nervous and having a hard time just "not thinking about it". It's the same mix of excitement and dread that I used to experience with infertility, waiting to see each month if I was pregnant.
So I'm trying to be patient and am praying for good news.
Last weekend I drove both babies down to St. Louis to see my good friend Jen. She and her husband have 2 year old twins. We were also joined by another friend and her 20 month old son. So five babies under three…nuts! It was fun and exhausting and fun. Here's a link to a short video of Ramona that Jen took, she's showing off her belly button:
http://www.youtube.com/watch?v=AmEj-b622Bo
Please join me in praying that we will all get some rest this week. That Ramona will recover from a cold she brought back from St. Louis with her. That all of the last-minute child care arrangements will fall into place. But most of all that these tests will show that Ramona's branching pulmonary arteries have grown significantly. Significantly enough that she will qualify for more surgery. Significantly enough to convince her doctors and her poor, scared mommy that she has a long term future.
Here's a pic of Simon out in our yard planting swiss chard with my mom…
Love, Jane.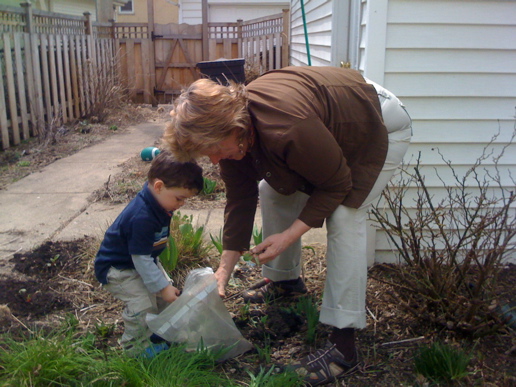 11 Responses to " Pre-TSD "
Trackbacks & Pingbacks: