Tue 28 Apr 2009
I spoke with the cardiologist this morning very early. I think we've gotten some good news. She was able to meet with the CV surgeon and cath surgeon last night to discuss Ramona's care and it sounds like we have a good plan.

First she answered some questions that Andy have had this past week. The propranolol that Ramona is taking is to treat a muscle spasm happening in the heart tissue right below her conduit. We had some concern that this was caused by an electrical problem that would effect the conductivity of her heart. But Dr. Vitullo (the cardiologist) believes that it is not an electrical problem but a plumbing problem and that once we relieve the stress on that part of her heart it will resolve.
The team also seems to agree that the conduit is now significantly obstructed. We knew she would eventually outgrow this conduit but did not know when. Best estimates at the time were around 18 months or two years of age so it's great that it's done so well for so long. She's like the Mars Rover! It sounds like Dr. Backer (the CV surgeon) feels she could tolerate and benefit from a larger conduit. That's great.
So the plan is to go ahead with the cath on May 21st. Dr. Wax (the cath surgeon) will try and dilate the narrowed areas on the left branching pulmonary artery. The more he can dilate, the bigger the conduit could be and the longer it might last. Then all films will be sent out for second opinions to both the Cleveland Clinic and Stanford. After the options are discussed we will likely move forward with another open heart procedure, possibly in the summer or early fall. All of this is very tentative and we are not sure of the timing, except for the cath. So I feel hopeful. Hopeful that time is not running out for Ramona. Hopeful that she is going to get the best possible care. At the same time, I am scared and anxious. Who knew open heart surgery could qualify as good news?
Simon is taking all of this kind of hard. I had to go to a doctor's appointment for myself today. We were waiting for so long that Simon fell asleep in the waiting room, so I left him sleeping in the stroller (with the receptionist watching of course) and took Mona into the examining room with me. When Simon woke up and realized we were gone he panicked. He didn't ask for me, he kept saying, "Where's my Mona? She can't stay here!". He was mess, crying and sobbing until he was limp and taking big shivery breaths, even though we reappeared about a minute after he woke up. It was so sad and my heart breaks to see him so worried for her.
Last fall our basement flooded twice. It was pretty stressful, expensive and a big mess. It wasn't the end of the world, we cleaned up, got some flood insurance and moved on. But every time it rains, we anxiously pace back and forth in the front windows; watching the skies and checking the radar. And although the basement has remained dry, every puddle that appears alongside the foundation reminds us that we have to stay vigilant. That the sump pump might fail, a gutter may overflow and then we'd be inundated. You know where I'm going with this right?
Last week was hard. She's really fine, not much has changed and she was only in the hospital for two nights. But every drop of bad news seems to bring a flood of tears for what might happen. Every new medication brings visions of the bad old days of tube feeding and oxygen tanks. In between the rain I forget that we might lose her. Or I tell myself that I could accept it. But when the cardiologist told us that she saw some concerning things and that she needed to be admitted, the dam broke. I've cried and cried this past week in a way that I haven't in a very long time.
It's got me thinking about the mysterious way God works, how He decides who lives and who dies. When does He send rain and when do we get a flood? What effect do our prayers really have? I have no answers, only questions.
And finally, will you please pray for sweet Faith who is battling to survive her third open heart surgery? The flood her family is walking through makes our daily drama look like a trickle. Thanks for your prayers. Here are some photos of Ramona and Simon at their cutest (Here you go Kathy!):
She doesn't mind the rain!
He's three!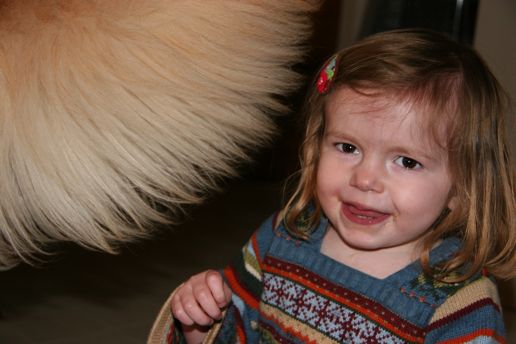 Contending with her favorite doggy's tail!
He knows how to work the camera angles!
21 Responses to " Drip, Drip, Drip "
Trackbacks & Pingbacks: