Our daughter, Ramona Mae, was born November 26th, 2006. Her birth was a much anticipated and joyful event. But her amazing story started long before her conception.
My husband Andy and I had been struggling with infertility since 2003. We prayerfully considered what our next step should be towards building our family and decided to pursue domestic adoption. On January 1st of 2006, we signed our adoption contract and began working on our home study, hoping to bring home a baby in the next 12-18 months.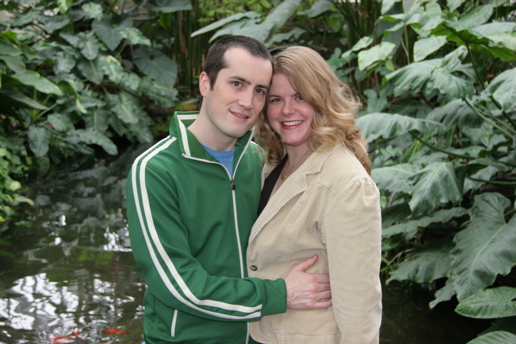 On March 31st we were completely flabergasted to discover that I was pregnant. We were excited but also nervous, having suffered a miscarriage in 2004. Then on April 11th we received a call that a baby boy had been born and would be available for adoption the next morning. So on April 12th we brought home our beautiful three day old son Simon. What a whirlwind that was. He slept in his car seat for three weeks while we mustered the energy to set up a crib.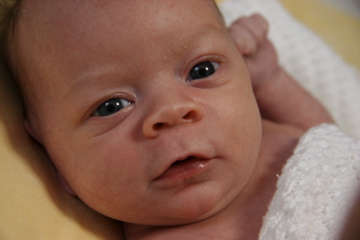 The pregnancy was pretty uneventful, unless you count non-stop vomitting and mind-blowing leg swelling. It got a little tricky towards the end as I approached parade float size and Simon approached 18 pounds.
On the Friday after Thanksgiving my water broke. We waited overnight for labor to begin in earnest but by morning I was still only dilated the tiniest bit. So our plans for a homebirth were scrapped and off we went to the hospital. The next thing that got scrapped was the idea of a drug-free labor. After 8 hours of pitocin I opted for the epidural, highly recommended. By the next day, now Sunday, I had finally fully dilated. I pushed for 3 hours but we just couldn't quite close the deal so off I went for a c-section, also fun. When she was delivered the cord was wrapped twice around her neck and there was a knot in it. She weighed 7lbs. 5oz.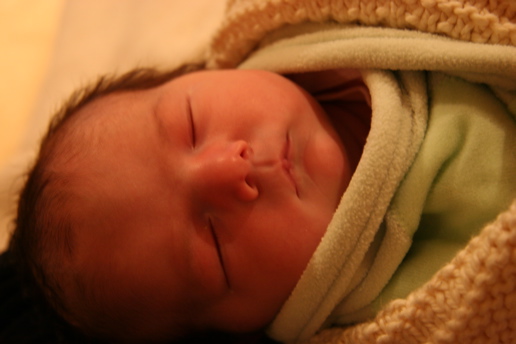 We were all stunned by her dark and "exotic" appearance. We even dumped our favorite names in favor of Ramona, which seemed to suit her so much better. She seemed healthy and although she slept quite a bit and was slow to nurse those few days at the hospital, no one seemed too concerned.
Fast forward 11 weeks. We are finally settling in at home. It's mid-February. I'm getting the hang of two babies, seven months apart. Andy has returned to work, the meals have stopped coming and help from our generous moms has slowed, things are finally getting manageable. But Ramona just isn't gaining very much weight. She's borderline. She's meeting her milestones, exclusively breastfeeding and otherwise seems content. But I just have this nagging feeling that something is off. After several trips to our usual pediatrician I decide to get a second opinion. Just to be safe, due diligence and whatnot.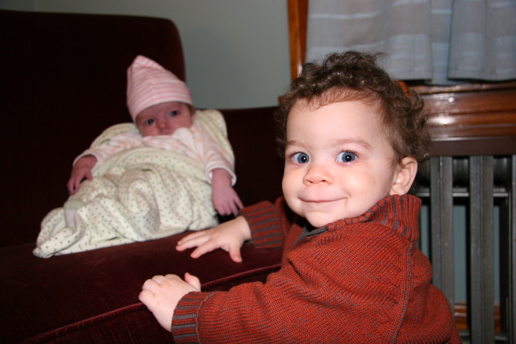 The second pediatrician didn't seem overly alarmed by Ramona's slow gain but did comment on her bluish coloring, which I had always thought was normal for her. To be on the safe side she ordered an echocardiogram, which is an ultrasound of the heart, to rule out a blood oxygenation problem. This was done on February 10th. On February 13th I received a call from the cardiologist who read the results of the echo. I listened in shock as she told me that Ramona's heart was "quite abnormal" and I needed to take her to the emergency room right away.
Andy decided to stay with Simon and a girlfriend met me at the hospital. Within about 10 minutes of arriving at the triage desk Ramona was in a trauma room surrounded by a dozen doctors and nurses. People were talking quickly, firing questions at me and getting Ramona hooked up to God knows what (I know what all those tubes do now, but I didn't then). Before Andy had even arrived she was intubated, unconscious and paralyzed.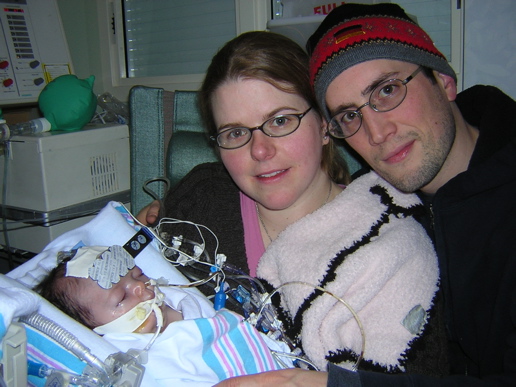 A doctor explained that she had serious heart defects: Tetralogy of Fallot, Pulmonary Atresia and MAPCA's. She would require open heart surgery before we'd be able to wake her up, much less take her home. The next day they did a cardiac catheterization and discovered that her branching pulmonary arteries (BPA's)were a miniscule 1.5mm. This prevented them from placing a shunt and instead they gave her a right ventricle outflow patch (RVOT). This means that they sliced open her main pulmonary artery and patched it with some of her pericardium (the covering of her heart). This created an increased blood flow to her BPA's.
She had a rough time in surgery (on Valentine's Day) and there was concern that she would not survive the night. But she did survive that night and the next, and every night since.
Several weeks after her surgery, she was diagnosed with 22q11 Deletion Syndrome, also sometimes called DiGeorge Syndrome. The full effects that this will have on Ramona, if she survives her heart defect, are still unknown. We do know to expect some learning delays. Ramona is currently receiving speech, physical, occupational and developmental therapies at home.
In June of 2007 it was discovered that Ramona had developed an aneurysm at the site of her first repair. We were again admitted through the emergency room and Ramona had her second open heart surgery a few days later. She recovered well and came home again just five days after surgery without supplemental oxygen.
And that is about where this blog picks up. The hope for Ramona is that some new treatment would be developed that would allow her heart to be repaired. She is not a candidate for a transplant. She is scheduled for another heart cath in November of 2009.
She is doing well at home with us and is now up to a whopping 34 lbs, eating entirely by mouth (many children with 22q11 get supplemental feedings through a tube as Ramona did for over a year). She wears orthotics that help support her during weight-bearing activities. She's taking supplemental calcium and a beta-blocker 3X a day. She's walking, talking, knows her alphabet and her colors. Her last surgery was an angioplasty in May of 2009.
Please pray with us for her happiness, her health and her healing.
Love, Jane.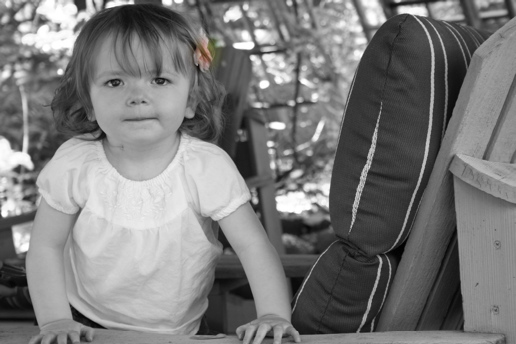 47 Responses to " Ramona So Far "
Trackbacks & Pingbacks: