Sat 31 Mar 2007
Our night helper, Rachel, started last night. She was courteous and professional (we knew she would be, she was our doula during Mona's birth). And things pretty much went off without a hitch. Of course the tube clogged again just as we were telling her how easy it was to push meds. And despite my assurance that she had never spit up during her night feed, Ramona decided to go ahead and throw up during her night feed. Rachel took it in stride.
One big surprise, Andy and I are not used to sleeping in the same bed together! It actually was kind of hard to sleep. And my normal hostess-y fears, like whether or not Rachel got any sleep, whether she found the futon cozy, whether she likes Ramona, etc., kept me up a little too. But on balance, I slept great and am feeling like I may be able to get caught up on sleep in a few week's time.
Today we tried Mona Mae in the Bumbo seat, which is a great little seat for babies that can't sit on their own. Her head control is not super great and you can see from the photo that the exertion made her a bit purple. But I'm so pleased that she's able to do some physical things and make progress there.
Thanks for thinking of us,
Jane.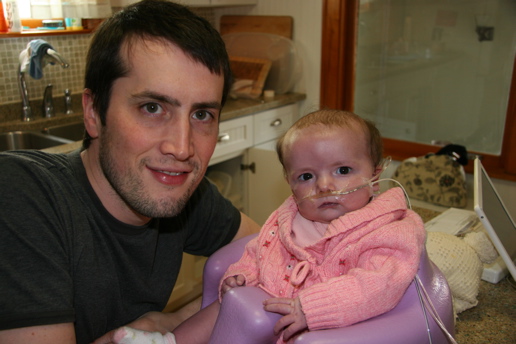 12 Responses to " Sweet Relief "
Trackbacks & Pingbacks: