Sun 9 Sep 2007
Being a new parent to a "special child", I haven't had a lot of time to get cranky about things people do or don't do, do or don't say, etc. when it comes to Ramona. But I have developed one little pet peeve…
Attention all random strangers: If you're going to stare, please just give me or her a little nod or smile to acknowledge that you're looking. I don't mind people taking a second look, I mean it is a little odd to see a baby with a tube on their face. I don't mind questions, I don't even mind the staring. It's just that when you stare, it feels to me like you're taking something, you're taking a good long look and it would just be nice if you could give a little something back. Thanks in advance for your cooperation.
But I'm the last person who should be complaining about not giving back. I've been feeling lately like we are just taking, taking, taking. I find myself constantly trying to give back and I think it's high time I acknowledged that this just isn't possible. We have a few friends who have suffered injuries recently that have left them unable to work and in need of some financial support. One of these friends accepted a monetary gift from someone they barely knew who told them, "This is how God's provision works".
So I'm thanking God today not only for all of you and the ways you've blessed us, but for God's abundant provision in our lives. And I'm praying for the wisdom and humility that acknowledges we can never pay back the blessings we are given by God and make it "even". I'm praying to rest in the truth that we are indebted to God for our lives and the goal is not to pay it back, but to pay it forward.
That being said, I have a very concrete way that each and every one of us could pay it forward today. The Chicago area blood banks are currently at 20% of their normal supply. If this critical shortage continues surgeries will have to be cancelled and postponed. Both of Ramona's surgeries have been emergent and unscheduled. She required large amounts of blood products from anonymous donors each time. If you feel you have the time to donate blood, it would be a wonderful way to honor Ramona. If you do end up making it to a donation center, please post a comment and let us know

Here's a cute shot of me and Simon yesterday on our front stairs, what a happy boy.
Love, Jane.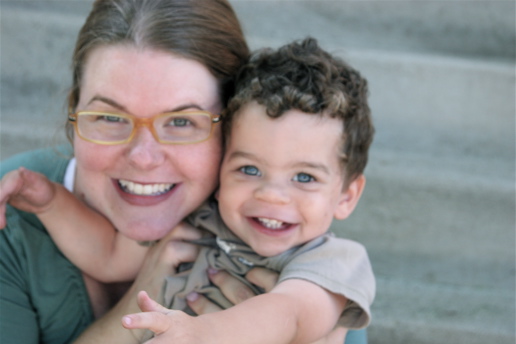 14 Responses to " On Giving Back "
Trackbacks & Pingbacks: